Jivan Gasparyan Jr Bio
Duduk is an ancient double-reed woodwind instrument made of apricot wood. UNESCO proclaimed the Armenian duduk and its music as a Masterpiece of the Intangible Heritage of Humanity in 2005 and inscribed it in 2008. Jivan Gasparyan is recognized as the most accomplished and influential musician in the history of the duduk. His music has been featured in Hollywood's some of the biggest movies of recent years such as Oscar-winning "Gladiator", "Ronin", "Syriana", "Blood Diamond" and others.
Among Jivan Gasparyan's students is someone who seems destined to become his successor: his grandson, Jivan Gasparyan Jr.
J

ivan Gasparyan, Jr. (born October 23, 1982 in Yerevan, Armenia) from the early years has been inspired by traditional Armenian folk melodies performed by his grandfather. Later he studied music, piano, vocals and musical grammar at Yerevan Vocal School, where he excelled as a student. Along with his study, he has also been learning the art of playing the duduk from his grandfather. At his early teens, he moved to Los Angeles, California.

After making sure that Jivan Jr. was ready for stage appearances, the elder Gasparyan changed his trio into a quartet, including Jivan Jr. in it. A few years later, Jivan Jr. accompanied his grandfather at concerts at the Los Angeles Hollywood Bowl, in Moscow at the Kremlin Concert Hall, in London, Poland, Italy, Russia, and many other cities around the world, having great success everywhere. In 2008 Maestro Jivan and Jivan Jr. performed a duet of a melody from the film "Gladiator" as the opening performance of the concert for Nelson Mandela's 90th Birthday celebration in Hyde Park, London.
In 2009 he took part in WOMAD festival in Abu Dhabi, organized by Peter Gabriel.
Jivan Gasparyan, Jr. took part in the celebration of his grandfather's 80th birthday anniversary on November 11, 2008 in Yerevan. He performed with a trio of duduks and accompanied guest musicians for three days of concerts. He has performed with musicians and bands such as Zucchero, Andreas Vollenweider, Boris Grebenshikov, the Alan Parsons Project, Planet X, Michael Brook and various other renowned artists from around the world.
Currently, he performs with the band "Viza," combining elements of traditional music in a modern setting. "Viza" is a group of nine musicians from Los Angeles. Their combined sound is original, unique, passionate, exotic, and spiritual, with elements of rock, jazz, and pop, wrapped in a Mediterranean/ Armenian/Middle Eastern fusion. He is also doing recordings with his grandfather for new projects. His major goal is to follow his grandfather's footsteps, achieve recognition in the performance of the duduk, and continue this traditional art in his own unique way.
His music appears in "The Soul of Armenia" double CD, produced by Network Medien GMBH (Germany), and the CD "Penumbra" produced by Michael Brook (USA), and CDs "Maktub", "De Facto", and "Eros" with the band "Viza" (www.experienceviza.com).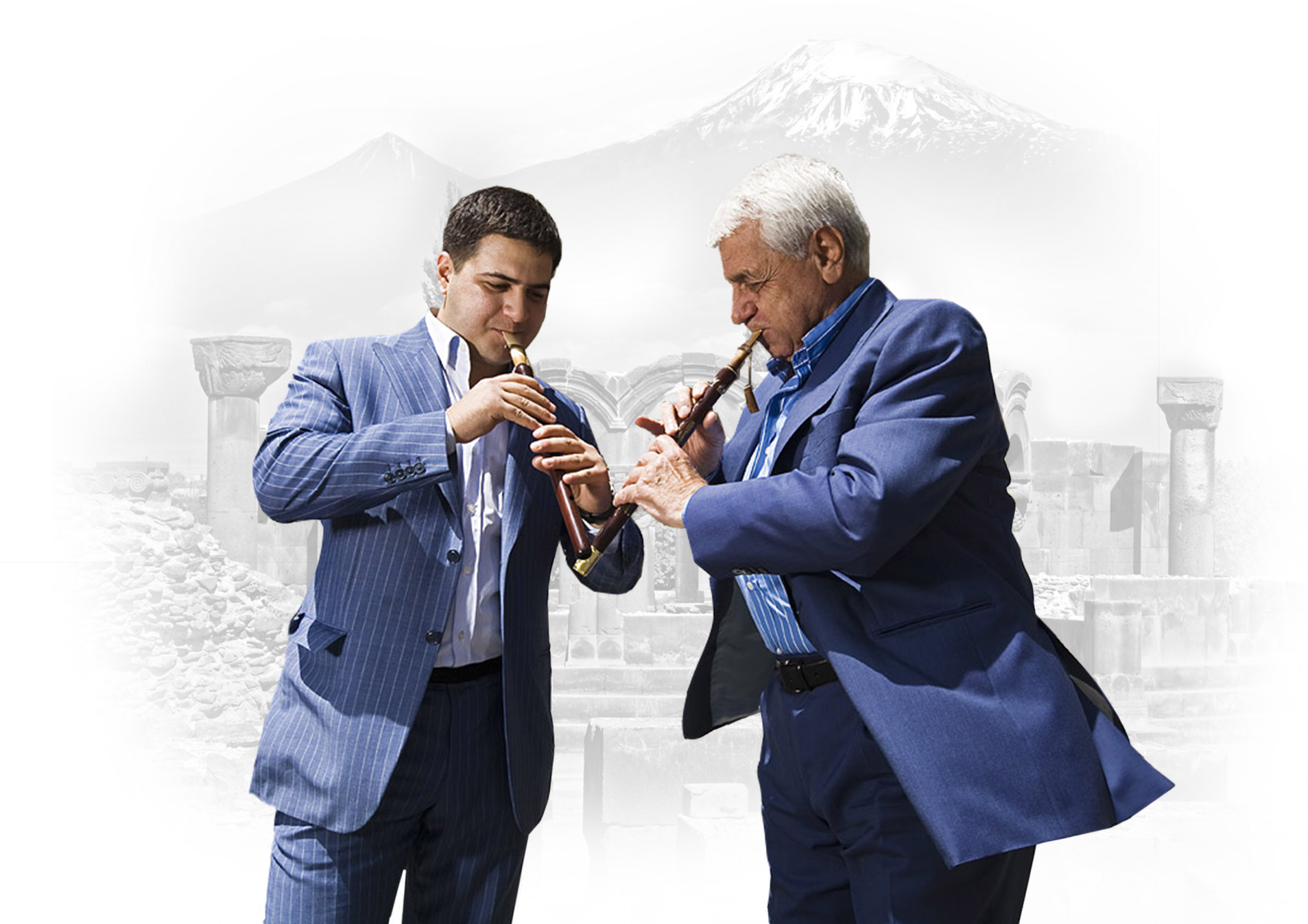 M

aestro Jivan Gasparyan is recognized as the most accomplished and influential musician in the history of the duduk.

But more than a musician, he is an icon, a living embodiment of the history of Armenian traditional, folk music. He has become a true cultural hero of his culture.

Jivan Gasparyan is a musician, who during his seventy years of professional career has earned global recognition for an unassuming instrument, turning the shepherd's flute into a rising star of Hollywood.